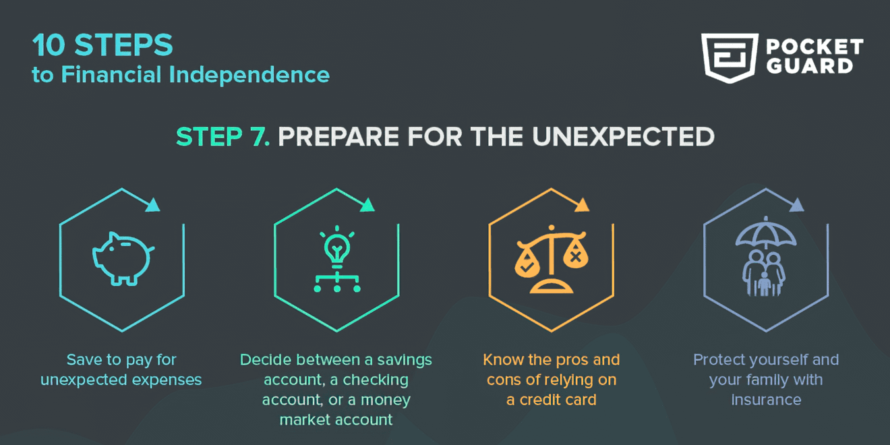 10 Steps to Financial Independence: Step 7
Life is full of unexpected situations.
You lose your job without notice.
Your car breaks down.
You hurt yourself.
Your roof starts leaking.
Or maybe something terrible happens, like you dying.
Thankfully, there are ways that you can provide a safety net for yourself and your family: savings and insurance.
STEP 7: PREPARE FOR THE UNEXPECTED
Save to pay for unexpected expenses
To be sure you have the funds to pay for unexpected situations and take advantage of opportunities, like good deals on major purchases, you'll want to set up an emergency reserve account. You will have peace of mind knowing that if something unforeseeable happens, you can pay for it. Financial advisors recommend that your emergency fund covers 3 to 6 months of your total living expenses, and be kept in a liquid account that is easily accessed and turned into cash when you need it. The best way to make sure you put money into your emergency reserve is to treat it like a bill. That way you will allocate money to that account every month.
Decide between a savings account, a checking account, or a money market account
a savings account is the most basic bank account. Your emergency fund will gain a bit of interest, and it will be safely waiting for the day you need it;
a money market account is similar to a savings account, but it pays more interest. It does generally require a higher balance, but the higher the balance, the more interest it pays;
a checking account is the easiest to access. If you have a debit card or checks, you can instantly pay emergency expenses. But given how easy it is to get to your money, you may run the risk of spending it more easily than you would if you had your emergency fund in a savings account.
Know the pros and cons of relying on a credit card
Pros
Credit cards are handy in a quick pinch. If you're lacking funds, a credit card is a good way to pay for something expensive, like a car repair.
Cons
If you don't pay off the entire bill every month, your credit card balance will accrue interest, which means you'll pay that much more every month.
Once you get behind on a credit card bill, it becomes a vicious cycle. You don't have enough money to pay it off, so you put as much toward it as possible. But then you have to use the credit card again for day-to-day expenses.
Protect yourself and your family with insurance
Insurance is an important investment. Whether it is car insurance, life insurance, disability, or renters' insurance, you want to have protection in case something unexpected happens.
Life insurance pays for various expenses when you die. It covers the cost of the funeral and burial; it replaces the income of your spouse; it can help pay for college for your children, and it can be used to pay off debts. Not all of these may apply to you, so the amount of coverage to buy depends upon you and your situation. Even if your family can afford to cover final expenses and replace your income with their assets for a period of time, doing so will reduce or may even deplete their assets.
short-term disability insurance
Short-term disability coverage is important to have in case you become temporarily disabled. It provides you with up to 60 percent of your base salary while you are unable to work, but there is a short waiting period.
long-term disability insurance
Long-term disability coverage is for situations where you are no longer able to work, such as if you develop a musculoskeletal disorder or get seriously injured. It provides you with income for a longer period than a short-term disability policy, but it has a much longer waiting period, which is where short-term disability income insurance comes in handy to bridge the gap.
Renters' insurance is advantageous because it protects your personal property against fire, theft, and vandalism amongst other things. While the owner of the building is responsible for insuring the building, he or she is not responsible for your belongings, so having renters' insurance keeps your items safe.
Having a safety net is essential for life's unexpected situations. Whether your car breaks down or you get into an accident that leaves you unable to work, you want to have an emergency fund along with insurance to keep yourself and your family protected.
Previous article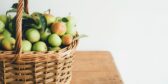 Next article