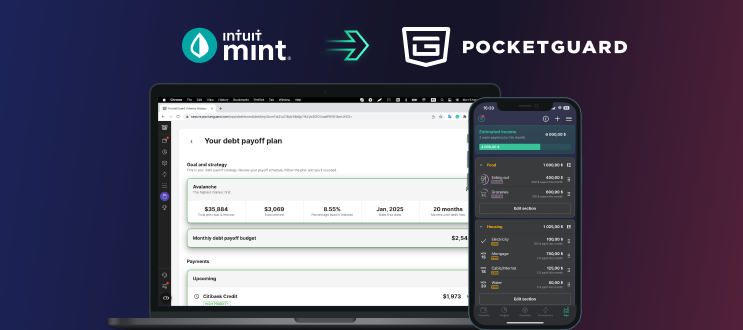 Intuit is shutting Mint down. Mint users should consider switching to PocketGuard
Intuit has made an announcement that Mint, an application for finance management, will stop existing by the 1st of January 2024. Therefore, all of the Mint customers should switch to Credit Karma which is also powered by Intuit. Such a decision provoked resentment on the part of Mint's Reddit community.
For 15 years of its existence, Mint has allowed users all over the globe to store their financial data within the app. Apart from that, Intuit's help center published an article stating that some options, e.g. budgeting, won't be available in the new app. So, it's quite obvious why users got disappointed.
What should Mint users do now?
Unfortunately, Mint and Credit Karma are no longer personal finance companies, but advertising companies.
If you're an existing Mint user and wondering how you should best manage your finances going forward, we would strongly encourage you to consider PocketGuard – a free budgeting app that has better budgeting functionality, does not sell your data, and shows no ads. Our mission is to simplify people's financial lives by helping them take control of their finances and make the right decisions to accomplish their dreams.
We understand that before making a decision to purchase a product, people first need to test it out. That's why we have a free version. In case you would like to get the most out of PocketGuard and our premium functionality – you can upgrade your account to a Plus subscription just for $2.92 / month ($34.99 / year) or pay us a one-time fee of $79.99 for the lifetime ownership.
Why PocketGuard?
We align company interests with your interests. It's hard to overstate the importance of this. When you are paying for the service, you are the customer. You call the shots, and the company builds what you want and need. If it doesn't, you cancel your subscription. This aligns with incentives and ultimately leads to a much better user experience. And we still have a free version for PocketGuard testing. That's why we don't sell your data, we don't show ads like Mint does and we earn our money exclusively by selling subscriptions and better service.
We are a people-oriented company that pays too much attention to customer feedback and propositions. PocketGuard customer support team is one of the fastest and most valuable on the market. Just write your problem or suggestion and you will get a quick reply (sometimes it's a couple of minutes, and sometimes it's up to 8 hours, but no more than 24 hours). We regularly conduct user experience research by conducting surveys and user interviews to hear everyone and build solutions to cover your pain points.
We provide better data connectivity and overall app speed. Apps for personal finance tracking are effective when they give fast access to current accurate data. To provide relevance and accuracy is a significant task requiring extra effort and cost. Subscription-based services must continually invest in data architecture enhancement if they don't want to lose their clients. We leverage different data providers to guarantee you the finest aggregation and most comprehensive bank connectivity.
We protect your privacy. Your financial data is extremely sensitive. It's also extremely valuable to advertisers. Do you really want this data to be sold to advertisers and other data brokers? That's why we have implemented our own suspicious transactions monitoring algorithm and created our own logic in identifying fraudsters who stole bank credentials to test them via PocketGuard (hoping that such fraud prevention actions have been made by other budgeting apps on the market, not only us). Such solutions are: identifying hackers, blocking them, and refunding money to real customers. We've been on the market since 2014 and have never let anyone steal your money using PocketGuard.
Is a more sustainable business. If you're investing a lot of time learning and setting up a new personal finance app, you want that app to stay around for a long time and continue to improve, not stagnate from lack of development, or go out of business because they ran out of money. The subscription model provides a higher chance of a company staying around long term.
What makes PocketGuard different from others?
Here are the things that we believe make us unique:
Best data connectivity. Unfortunately, no single data aggregator provides complete coverage of all financial institutions. So we have integrated with all of them at PocketGuard. What's more, we've spent years (and millions of dollars) working with them to identify and solve most of the cases related to data infrastructure. We've also invested heavily in other in-app tools to make it possible to customize your data the way you want. We will have some exciting announcements on this front soon!
Unique left-to-budget calculation. Here at PocketGuard, we have spent years building a single number calculation that indicates your monthly performance with no douts. It includes all your income and expenses (such as debt payments, savings, transfers, fixed recurring, and variable expenses) to provide a clear picture that you can rely on at any time of the day or night. We call it In My Pocket, if it's positive, you're doing right and spending less than you earn. If it's negative – then you will be overspending this month and need to adjust your budget planning.
Unique recurring merchants identification. It is special since no one on the market has a similar mechanism for identifying recurring transactions such as PocketGuard. We've been working together with mathematics for years to build algorithms and models to identify such Merchants and their frequency correctly. Each time you connect one of your financial institutions, our algorithm analyzes your financial data and adds recurring bills & income to your plan.
Unique personalized debt payoff plan. You won't find anything similar on the market. Almost everyone has debt to pay off and here at PocketGuard, we've built an all-in-one solution that counts your minimum payments, APR, forbearance, and promotion rates for every credit card, mortgage, loan, etc. We cover the two most powerful payoff strategies called Avalanche and Snowball to prioritize your upcoming payments. You are able to see your debt-free date and payoff schedule for each month as well as the ability to define a payoff budget integrated into your monthly plan. Feel free to change it anytime you want by adding or excluding money from the payoff budget when life happens.
Not only budgeting but learning. We've created a personal finance management course that is available for anyone since we do care about the overall financial literacy of our customers. This course will help you understand how to deal with budgeting from scratch and use PocketGuard the right way.
Fast growing driven by our clients. Our company is famous for being extremely customer-focused. We value your opinion, and that is why we leverage multiple options including customer interviews to get precious insights about clients' needs. It helps us provide the best service by constantly improving our product and releasing new app versions once every couple of weeks. Feel free to check the updates here.
Available on web, iOS, and Android. PocketGuard has apps available on all of the major platforms.
Actual customer service! If you have a problem, you can contact our CS team. They're friendly and real people! And they will send you a real response, typically between a few minutes to 8 hours.
Mission-driven team and investors. We have a very seasoned team of 20 people that is mission-driven to help American households improve their financial lives and we're just getting started.
---
PocketGuard is free to try, and quick to set up
PocketGuard has a free version. If you decide to upgrade – there is an annual subscription that is free to try for 7 days on the web app, and after that, the subscription price is $34.99 per year ($2.92 per month) or just over $7.99 a month if you sign up for our monthly membership ($95.88 per year). You can also pay a one-time fee that is $79.99 for a PocketGuard lifetime membership.
You can learn more about PocketGuard's features here and here. Feel free to learn more about how to set up your PocketGuard account from scratch.
Whatever you decide to do, we wish you the best in your financial journey!