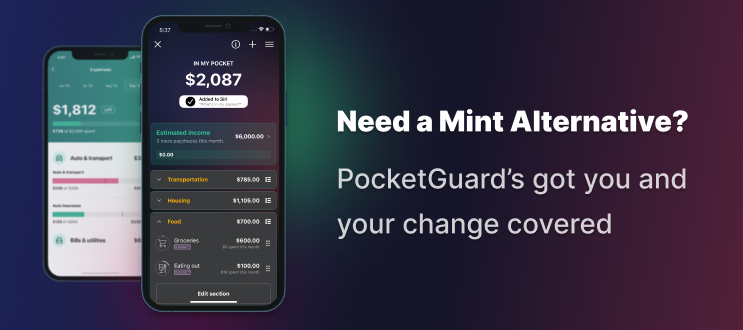 Need a Mint Alternative? PocketGuard's Got You and Your Change Covered
The news that the budgeting app Mint was being shut down by its parent company, Intuit, has been poorly received online, with many of its users taking to social media websites like Reddit to share their dismay. It should perhaps not come as much of a surprise as the app's infrastructure has not received much support over the last few years. That is a small comfort however to the app's loyal users, for whom it had become an essential part of their daily routine.
According to an article published by Bloomberg Mint had a total of 3.6 million users in 2021, a considerable fall from Mint's own claim in 2016 that it had 20 million users. Despite that precipitous drop in its list of users, it's clear from the consternation on Reddit threads and forum posts that the app still has a hardcore group of users who now don't know how they'll manage their finances. The clock is ticking, as the app will be completely shut down by January 1, 2024; they need to find an alternative service by this point.
The good news for those gnashing their teeth and tearing their clothes about the demise of Mint is that there is already an alternative available that doesn't just match its capabilities but actually surpasses the app. This is not the successor to Mint as even its parent company Intuit admits that Credit Karma doesn't have many of the key functions currently offered by Mint, making it a poor substitute for its loyal users. A worthy successor can be found in Pocketguard, an all-in-one budgeting app that already has a large number of enthusiastic users.
Mint Had a Great Start – Where Did it Go Wrong?
First of all, let's take a closer look at Mint's history as the app has a storied history in the finance industry. It was first bought by Intuit in 2009 from its founder, internet entrepreneur Aaron Patzer for a reported $150 million. He has since gone on to move to New Zealand and lead a relatively quiet life, running a medical software company.
The deal to buy Mint made sense as Intuit was already the owner of other financial services apps like Turbo Tax, a widely popular software package used to process tax returns. At the time of the purchase, Mint was estimated to have 1.5 million users tracking nearly $50 billion in assets and $200 billion in transactions, all impressive figures for a finance budget app.
Mint's growth would continue hitting 10 million users in 2010, reaching the aforementioned peak of 20 million in 2016, and then slowly declining to the 3.6 million people registered in 2023. There are a number of reasons why the app's user base declined over the years, including issues with accessing customer support, privacy complaints, and difficulty syncing up with banks and financial institutions, all being reported.
Yet despite all these issues, Mint enjoyed the support of a hardcore userbase that appreciated it for what it was; a simple-to-use budgeting app where one could manage personal finances, from bank accounts to retirement funds, in one place. It might have been basic but that's what ultimately made Mint successful. Users would just need to add their bills and expenses to their dashboard to monitor them, and active alerts could be set up for payments or as a warning when funds dropped to a set low point.
It had enjoyed better times but Mint was stable and had customers, so what went wrong? What pulled the rug from under one of the finance industry's most storied budgeting apps?
Mint Becomes Credit Karma
Ultimately the Mint budget app was axed because Intuit wanted to streamline the financial services it offers. As such, it decided to close the app and migrate all of its users to another application in its product portfolio – Credit Karma.
This app is already very popular with over 130 million users worldwide who primarily use the service to monitor their credit scores and access personalized loan offers and recommendations. Intuit hopes this app will prove popular with Mint's users, who will be able to transfer their linked financial accounts, historical balances, and net worth graph over to Credit Karma.
The problem Intuit faces as a result is obvious; The company is trying to shoehorn Mint's users, who liked the app because it was a simple-to-use budgeting tool, onto something that's primarily designed for loans and credit cards. The best that Intuit is able to offer Mint customers is that they will be able to "continue to track their spending and net worth and view cash flow over time." There is currently no information about when (or if) Credit Karma will be updated to allow its users to set a monthly budget, or set budgets by category.
To say that the Mint budgeting tool's users are disappointed by this would be something of an understatement, hence the online furor. Many of them are now looking for an alternative—something that provides a reliable service that focuses on the fundamentals of personal financial management without the particular focus on credit cards, loans, etc. One of the best alternatives currently available is PocketGuard as it's not just an analog of Mint; it provides many improvements as well.
PocketGuard: Everything Mint Can Do Done Better (and Then Some)
PocketGuard allows its users to take a broader view of their finances by integrating them smoothly into one single system, ensuring they can control everything from income, expenses, bills, etc. in one place. It's designed for the normal person or family that wants to exercise better, more realistic control over their inflows and outflows, so it focuses on the essentials.
With graphs and tabs, its simple, interactive, and user-friendly layout provides a thorough overview of the spending trends in every category set by the user, which can be tracked by using assigned hashtags. This makes it an excellent alternative to the Mint bills system.
Despite only being around for a few years PocketGuard has already achieved notable success, all the more impressive given that the company's team originates in Ukraine and has continued to work despite the Russian invasion. Over the last few years, the app has lowered over $40 million in bills for its users, saved nearly $1 billion in goals, and paid off over $90 million in debts. Coupled with well-reviewed customer support, it's no wonder why this budgeting app is becoming increasingly popular.
PocketGuard vs Mint: Key Differences
So it's PocketGuard to Mint, budget app to budget app, mano a mano, how do they stack up? Let's break this down in more detail as the app's not just a quick fix analog for Mint. The new kid on the block is like that old Broadway song Anything You Can Do (I Can Do Better); Let's find out why.
| | |
| --- | --- |
| Mint | PocketGuard |
| Mint's security is limited to a two-factor (2FA) verification process to prevent unauthorized access. | PocketGuard includes 2FA, a four-digit PIN code, and a secure password vault as standard. |
| Consistently poorly rated customer service that made it extremely difficult to speak to a real customer support agent. | High-quality customer support is guaranteed without any bots. When you contact PocketGuard you will be speaking to a real person. |
| Neither Mint nor Credit Karma offers this functionality. | You can renegotiate your recurring monthly bills (cell phones, electric, WiFi, etc) via the PocketGuard app This service carries no additional charge unless a bill is lowered. |
| No features to help you become debt-free | Personalized debt payoff plan including the Avalanche and Snowball strategies, integrated into your monthly budget. You are able to see your month-to-month payoff schedule |
| No personal finance education | Personal finance management basic course that helps you increase your financial literacy and use PocketGuard the right way |
| It's possible to generate reports via Mint however the process is complex and not user-friendly. | PocketGuard includes streamlined reporting capabilities as standard and also features custom pre-built reports. |
| The app comes with several expense groups however Mint doesn't allow you to create custom categories. | PocketGuard allows you to categorize or group transactions with common attributes to create custom expense groups |
| Mint is currently only available in the United States and Canada | PocketGuard is also available in the United States and Canada and is supported in the United Kingdom as well. |
There's No Need to Stress – PocketGuard's Got You Covered
For many of Mint's loyal followers, the news about its imminent demise will have come as a shock. After all, we get used to our favorite apps, don't we?
It's difficult to change one's routine at the best of times, and when that decision is made for us by a company then the adaptation process can be more difficult. The good news is that there's no point fretting about what you now need to do to protect your finances, or worrying about having to choose an app alternative to Mint; the obvious answer is right in front of you – PocketGuard.
You need an app that is designed exactly for your needs and doesn't roughly shoehorn you into a system that was designed for another purpose, like Credit Karma. With PocketGuard there's no tricky adaption process either, just sign up and enjoy all the key factors provided by Mint dialed up to 11.
A great app, customization options, and customer support manned by real people – The smart choice is the simplest one, replace Mint with PocketGuard today.
Next article