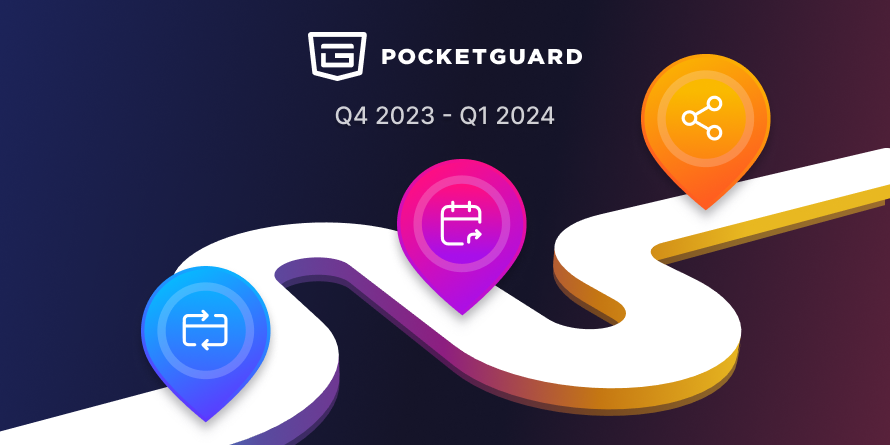 PocketGuard Roadmap
We've decided to make PocketGuard Roadmap Q4 2023 – Q1 2024 visible for our customers in order to bring a clear picture of our plans and future improvements. We find these improvements top value for our audience in order to meet their budgeting needs and solve main pain points. So, here's the list:
Data transfer from Mint to PocketGuard in a few clicks
When: December 2023
What: Mint switchers will be able to attach their Mint export file, so we can import all the transaction history applying correct categorization, notes, and other details. After that, Mint switchers would be able to select a bank account(s) to pair their transaction history based on what PocketGuard identified. This journey would take seconds and download your full transaction history directly to bank accounts.
Budget rollover
When: January 2024
What: PocketGuard customers would be able to apply the "rollover" function to their category budgets in order to move unused / overspent money to the next month. Their "IN MY POCKET" calculation would be also automatically updated including budget rollovers.
Categorization rules
When: February 2024
What: PocketGuard customers would be able to create customized transaction rules and tell PocketGuard how exactly they would like to categorize their transactions. As a result, PocketGuard would automatically update such current and upcoming transactions based on the Merchant, Payee, Account, Amount, Category, etc. This feature will automate the overall process of categorizing transactions and save tons of personal time.
Shared household
When: March 2024
What: PocketGuard customers would be able to invite a collaborator into their personal budget and set roles, such as Viewer or Editor in order to share their household budget for different purposes. The invited members would get their own login details for the shared view based on the access provided by the Group Manager.
We're exploring a bunch of ways to improve budgeting in PocketGuard to better support all of the unique ways people think about their money. More to come. Stay tuned so you won't miss important updates.